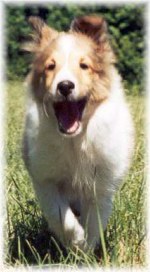 Picture above: Beuhneman Pine Shadow Taffy, 14 wks old. "Taffy" is our foundation bitch.
Welcome
to
Pine Shadow Shelties
Located in Vermont.
Shelties since 1993- 2004.
IN 2004 we decided to place (sell) all our dogs. We will be taking a sabbatical (5-6 yrs) from showing/breeding Shelties so that we can spend more time with our children and travel.